Herrmann Family Chiropractic Reviews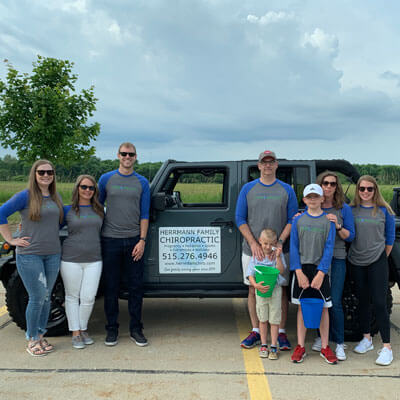 What Our Johnston Patients Say
At Herrmann Family Chiropractic we love when patients share with us their feedback and comments after chiropractic care. Please read our patient testimonials below to see what other people have achieved through their tailored treatment plans with us.
Share your stories too! Click here to send us your feedback so that we can help to spread the word about the benefits of natural Herrmann Family Chiropractic care.
For more information, or to schedule an appointment contact us today.
CONTACT US »

---
Informative and Educational
The Herrmann's are a very knowledgeable team. I felt very informed and educated after my first visit, and feel confident in the care plan established for me. I appreciate hearing Dr. Megan's recommendations and advice as it relates to my pregnancy, and am very pleased with my decision to be seen at Herrmann Family Chiropractic.
-Kaleigh A.
Feeling Better Already
"Dr. Megan is amazing! Caring and listens! I could barely walk upon my arrival to their office. Now, just 5 days later (4 appts), life is once again bearable and getting better everyday. I heard great things, now I've personally witnessed them as well!"
-Mandy G.
Dr. Eric is patient, caring and focused on providing targeted care. Very happy to be a patient here.

Seth H.
Thorough Doctors
Very thorough exam. Spent more than the normal amount of time with me and explained everything completely. Asked if I had any questions several times. I am more than happy with this chiropractic experience.
-Mary C.
These Doctors Take the Time to Listen
"Dr. Eric Herrmann and Dr. Megan Herrmann are awesome chiropractors who take the time to listen to a patients symptoms and concerns. They care about getting their patients to feel better. The office is clean and modern and has a small town clinic feeling which is friendly. If you need to see a chiropractor, please consider making an appointment with Dr. Eric or Dr. Megan."
-Bob B.
Dr. Eric and Dr. Megan really care about their patients! I would highly recommend Herrmann Family Chiropractic! They give excellent care!"

Mary H.
Extremely Professional
"Megan and Eric are fantastic Chiropractors! They are extremely professional and truly love to serve their patients. This couple will have you and your family functioning at your peak potential. All Herrmann Family Chiropractic the opportunity to exceed your healthcare expectations!"
-Natalie C.
Highly Recommended
"Dr. Megan delivers a very precise and gentle adjustment. She is confident in her abilities and will leave you feeling renewed. I highly recommend her!"
-Jessi O.
They are wonderful people and are really good at what they do. :)"

Dana and Chad
They Really Care
"You can really tell that they care about what they do and their patients. They are both fantastic chiropractors and I will definitely be going there from now on."
-Cory H.
---
Herrmann Family Chiropractic Reviews | (515) 276-4946